Why Spiro ITA
Critical Characteristics of Effective Training
There are literally hundreds of IT training companies for you to choose from. Why should you choose Spiro IT Academy (SPIRO ITA) above the rest? Here are nine critical characteristics that SPIRO ITA provides to assure success and remove your risk. You can use these important criteria to evaluate any training provider. We're confident that you'll find no one else delivers such assurance of consistently excellent, cost-effective, and convenient training – every time.
1. Task-Oriented, Competency-Based Course Design
2. A Truly Hands On Learning Experience – At Least 50% Lab Time
3. Courseware Ownership & Control
4. Instructors With Extensive Experience, Not Just Certifications
5. Multiple, Convenient Training Locations Across the India,Malaysia and the Singapore
6. Small Class Size
7. A Cost-Effective, Total Solution
8. Superior Customer Service
9. Unbeatable Guarantees Other Companies Can't Touch
Task-Oriented, Competency-Based Course Design
The best way to assure competency through training is to determine what tasks the trainees need to perform in their job, and have them actually perform those tasks during the training. SPIRO ITA's course design and development process begins with a task-orientation focused on creating true competency, and our small class sizes assure that instructors can focus course content to your specific needs. The best way to assure competence is through facilitated hands on practice. Our students spend at least 50% of their time in class performing structured hands on lab exercises that build competence, confidence, and clarity. Our courses never teach to certification tests – they focus on competency, because competent people will pass the certification tests.
A Truly Hands On Learning Experience – At Least 50% Lab Time
People learn by doing. Educational psychologists generally agree that we learn and remember 80% of what we experience or practice, versus only 10-20% of what we read or hear. Even the most ardent suppliers of e-learning programs admit that instructor-led training is at least 20% more effective in meeting learning goals and achieving retention. For this reason, SPIRO ITA courses are always designed to spend at least half of the class-time working hands on with the technologies. And our small class sizes assure substantial interaction and facilitation by your instructor.
"Hands on labs are a very good idea, it solidifies the learning more than I have experienced in other classes."
– Shiva ram ,Sr.software Programmer ,HCL Technologies
SPIRO ITA's hands on labs include comprehensive problem solving exercises. To facilitate and accelerate the development of quality solutions, students work in teams with active involvement by the instructor. Studies show social interaction and sharing of information ensure faster progress and greater retention. This method of learning allows the instructor ample time to deliver relevant assistance and provide insight at each lab station. The net result is a more complete and engaging learning experience.
Courseware Ownership & Control
Many training providers, even the largest ones, often concentrate first on winning the business, and then on finding an instructor and placing responsibility for providing courseware on that instructor. These "virtual" training providers own no courseware and have no course developers on staff. This is the best-kept secret of the technical training industry. Too few customers ask the question, "Do you own and control your courseware?" Since control of courseware offers so many advantages, virtual training providers cannot hope to provide any guarantee of total success.
We don't lease courseware. We don't use textbooks. That means the student guide is developed to provide first rate support for presentations. The student guide and the hands on exercises are constantly updated and improved, using both direct feedback from students and the instructors' own observations of what works best in the classroom. This just isn't possible with leased courseware.
"This is my second SPIRO ITA class. The instructors, materials, and experience are excellent. Best training I've had in both cases. Highly recommend this company."
– Jaya Bharath,Infosys
Experts agree that intense hands on practice drives up competence and retention. That's why SPIRO ITA places special emphasis on hands on exercises in each course that we deliver. Most leased courseware falls far short in this area. It takes extra effort and substantial knowledge to create robust, well documented exercises. Companies that offer courseware for lease need to provide exercises that appeal to the lowest common denominator; furthermore leased courseware cannot assume that complex software setup will necessarily be available to support competency-based labs. As a result, lab exercises in leased courses can border on the trivial, and are rarely complete in the sense of exercising all the skills being taught.
Ownership of materials also keeps our variable costs down. We hope you'll notice that those cost savings are being passed on to you, our customers.
Finally, ownership of our courseware means that when we deliver training at your facility, we can focus the presentation as appropriate, and at no extra charge to you. We don't have to mix and match books to get the pieces we need, or omit a book for cost reasons even though it has a particularly important bit of information.
Instructors With Extensive Experience, Not Just Certifications
We know that professionals want to learn from professionals. Our instructors are not new to programming, nor are they new to the industrial training environment.
Our instructors are cross-trained in multiple related technologies.
They're not just one step ahead of the students.
They know about and can contrast competing technologies.
Audits of applicants show that less than 10% of all instructors teaching for our competitors meet our strict standards. The remaining 90% lack the qualifications and experience to teach for SPIRO ITA.
"I really liked the format of the class – the labs gave me a chance to apply what was being discussed in class as well as giving me a chance to work with the tool. The instructor brought a lot of industry experience to the table and was able to further clarify various examples with real experiences which I found to be invaluable."
– Harrish,Botony computers
Our management understands that you don't throw an instructor unfamiliar with a technology at a class just to "preserve the deal." SPIRO ITA upper management has been in the computer training industry since 2005; we have the contacts, the know-how, and the commitment to provide excellent instruction – every time.
Multiple, Convenient Training Locations
SPIRO ITA offers regularly scheduled open-enrollment classes at frequent intervals in more than 50 cities across the India, Malaysia and the Sri Lanka. You won't have to wait to get the training you need and chances are you won't have to travel far to get it either. With SPIRO ITA's convenient schedule and multiple training locations there is the potential to lower or even eliminate the travel portion of your training budget. When it comes to IT training you should be in control of when and where you study and it is a major goal of ours to make sure you have that control.
Small Class Size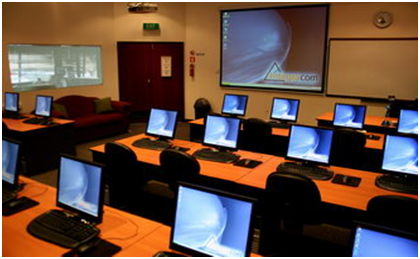 One of the primary determinants of the success of instructor-led training classes [besides the competency of the instructor] is the accessibility students have to ask questions, get help when they need it, and receive appropriate guidance. Our open enrollment classes average less than 15 students.
"This course provided a great understanding of concepts and methodology for C# .NET. The small classroom size was extremely beneficial to the learning experience."
– Karthika, Analyst, Verizon Data services.
That means less waiting around to receive help during lab, more time spent discussing relevant problem domains, and more direct contact with the instructor. For many students it's very important to be able to discuss their specific action plan and opportunities on the job to apply what they're learning. That's just not possible if there are 20 to 30 people in a public class.
A Cost-Effective, Total Solution
Most companies that require software skills training spend too much on it and don't get the full value that can be realized. You can't leverage the advantages of great training without cost control. At SPIRO ITA we offer you a cost-effective, total solution. Our prices for both open-enrollment and on site training classes are among the lowest in the industry. The availability of open-enrollment classes in more than 50 cities plus travel packages and on site training options help minimize or, in some cases, eliminate your travel costs. And, you pay no additional fees for application, registration, or cancellation. Unlike SPIRO ITA, many training providers charge unnecessary fees for cancellations or changes.
SPIRO ITA's cost-effective, total solution allows you to plan in advance and make changes if necessary without any hassle and without any financial penalty. And our fixed-cost discounted travel options allow you to take a course anywhere in India at a fixed, predictable cost that's lower than tuition alone at other training providers. That's true cost control and if you compare our cost structure to other quality technical training programs, you'll find there is simply no comparison!
Superior Customer Service
SPIRO ITA's customer service is unparalleled in the IT training industry. customized discount packages allow you to exploit our multiple locations if you have personnel dispersed across the country. And we offer tuition and travel packages that cost less than tuition alone at our competitors. We'll even make the arrangements for you.
"Course instructor and SPIRO ITA customer service far exceeded my expectations. We will definitely look at using SPIRO ITA for future training"
– Kanithkar,Wipro Technologies
If you require mentoring on a particular subject when you're through with class, our instructors are always available to you for assistance. SPIRO ITA strives to make every student comfortable within their newly learned skill-set. We want you to excel at your job when you're through with the training and when it comes to certification we want you to pass your exams. If a student is not confident in their abilities after training with SPIRO ITA, they also have the option to retake all or part of the course again for no additional charge. If a student lacks confidence we will work with him or her to develop the understanding that leads to confidence as well as competence.
Unbeatable Guarantees Other Companies Can't Touch
There are a surprising number of unscrupulous training providers and a training budget can certainly be consumed without producing an appropriate result. You need a training company that will lower your risk and assure your success – every time. At SPIRO ITA we provide you seven unbeatable success guarantees that other companies can't touch.
SPIRO ITA guarantees small class sizes.
SPIRO ITA guarantees quality instructors.
SPIRO ITA guarantees competence.
SPIRO ITA guarantees that training from SPIRO ITA will be more cost-effective than training from any other source.
SPIRO ITA guarantees that students will pass related certification exams, or SPIRO ITA will pay for the retake.
SPIRO ITA guarantees that students in open-enrollment classes are protected against cancellations and will be able to receive desired training at the cost they expect and in the time frame they have planned.
SPIRO ITA guarantees overall quality with a 100% money-back guarantee. If you're not totally satisfied for any reason, simply withdraw before the second day of any class. Notify the instructor and return all course materials and you will receive a 100% refund.
SPIRO ITA presents the best quality and value available today. Our customer service policies and guarantees assure that you get quality training when you want it, and at the lowest total cost available from any source. We want you to get the architectural insight and accelerated learning path that you came for. Every time. If you're not totally satisfied for any reason, simply withdraw before the second day of any class. Notify the instructor and return all course materials and you will receive a 100% refund.
When you choose SPIRO ITA, you eliminate your risk and receive high-quality training – every time.